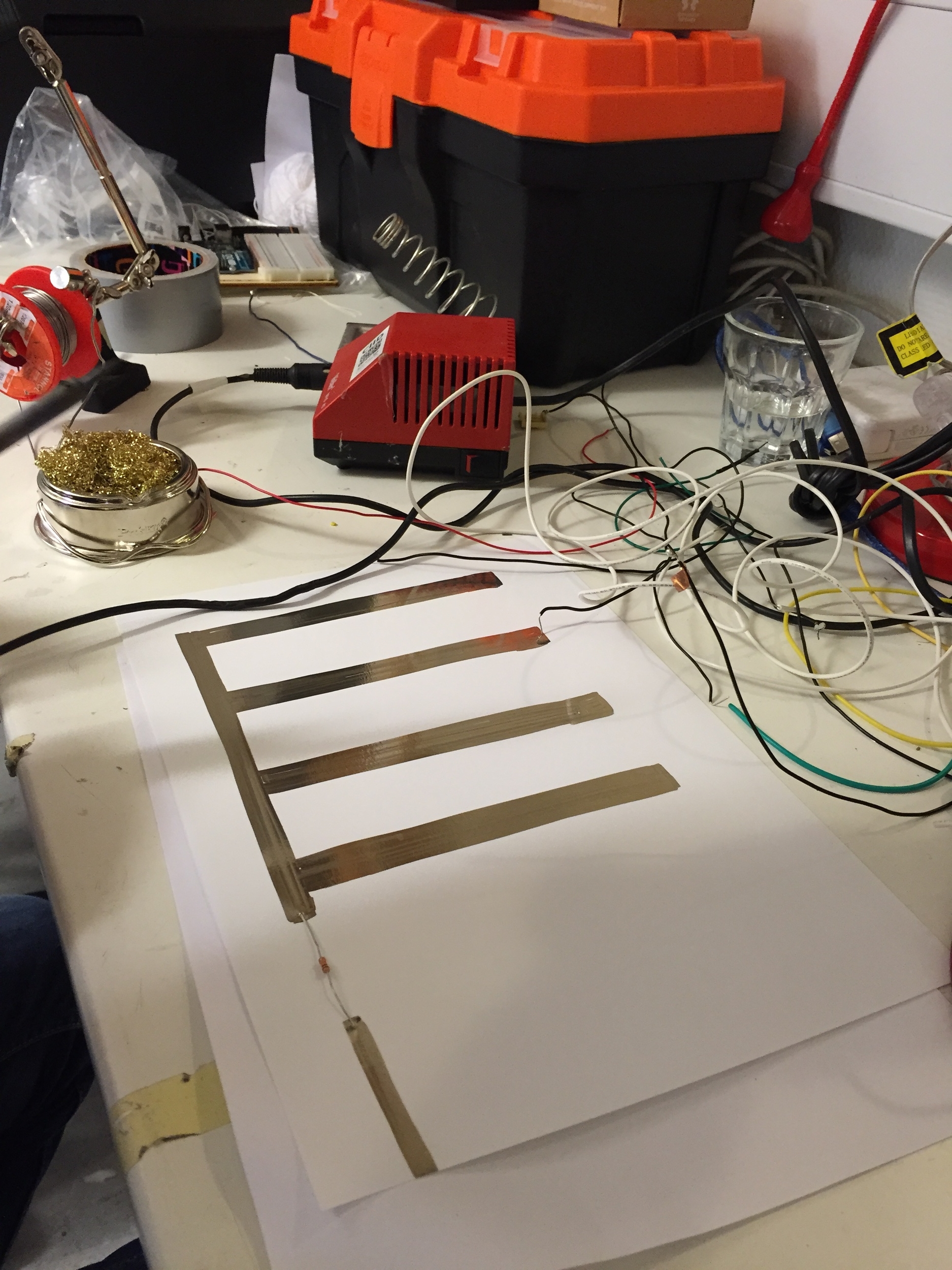 Title: inDirectional Lights
Time: 4 days
Tools: Brainstorming, Arduino, 4 Lights, 4 Motors, 4 Self made Pressure Sensors,
Modeling, Storytelling
Team: John Ferreira, Sudhandsu Gautam
Task: Make a Magic Product
Create and prototype an enchanted object focusing on a specific context.
Research and explore the contexts of use and the people who will be
interacting with your enchanted object.
Faculty: David Rose & Francisco Gomez Paz
 


Project Description
"inDirectional" is an interactive array of lights that creates the environment which best suits your activity. Make yourself comfortable on a sofa and review the day in a relaxing atmospheric light, simply pick up a book and let InDirectional take care of spotting the best possible reading light for you or lay down and fall asleep without having to turn off the lights yourself.

An array of four lights can work together to serve four people, each with individual needs. The lights save energy by responding to natural light to only illuminate when needed. And now, in a bedroom, you'll never disturb a sleeping partner.
 
The Process
After experimenting with different shapes, materials and various numbers of motors, we started putting things together:
We laser cut transparent acrylic in the triangular shapes we wanted and sanded the part that functions as the lamp shade. Looking at the lamp from the side you will see that the lower and the upper part complement one another perfectly to a rectangle.
For the pressure sensors we have hidden in the sofa we used wires, conductive paint, foam to keep the two censoring part apart from each other and magnets to keep up the paper-wire connection.
 
My Role
We spent the first 2 days creating design challenges and holding plenty of brainstorming iterations as a team. We created moodboards and put together a brief concept as a team. We then split up and worked separately bringing together our progress in regular time intervals.
My first main focus was on creating low fidelity prototypes around the shape of the lamp. The challenge was to create the shape of the lamp in a way, that its rotation allows a reading spotlight in one position and an indirect ambient light in the other position.
My next role was to create pressure sensors for each lamp to hide underneath the sofa cover. For these self made pressure sensors one team member and myself used conductive ink as well as copper tape and a layer of foam in-between to prevent the contact of the facing sheets without anyone sitting on the sofa. We wired these sheets and connected them to an arduino.


inDirectional Lights At Trailerpark Festival I/O 2015
These are a couple of pictures from the preparation and set-up of our project at the Trailerpark I/O Festival. Light sensors hidden underneath the boards placed on a platform allow the light to react whenever a book is being picked up.

The Trailerpark Festival is an art and music event that takes place in Copenhagen once a year. During these three days multiple exhibitions, talks, workshops and presentations of a wide range of creative subcultures within music, art and design are shown and shared.
inDirectional Lights was part of the Trailerpark Input/Output exhibition. It "symbolises the discovery of technology, creativity and human interaction. We bring together rebels from multiple and diverse artistic and digital landscapes, to explore technologies, co-create radical solutions, showcase new talents and share ideas. Oh, and of course have a lot of fun." (1)
(1) Trailerpark Festival Homepage