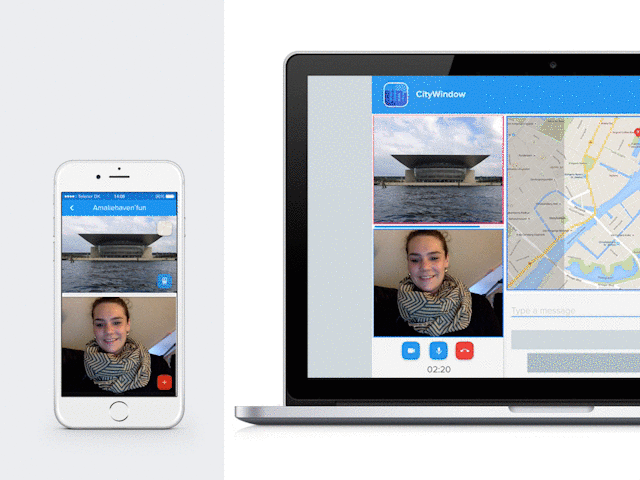 Title: City Window
Time: 1 week
Tools: People Centered Research, Brainstorming Video-Prototyping, Skype, Illustrator,
Photoshop
Team: Alejandra Molina, Michael-Owen Liston & Riccardo Cereser
Task: Design an emotive digital service for LIVE events

Faculty: Ulrik Hogrebe & Jacek Barcikowski

Press
IxDA

 

Project Description
City Window is a live-streaming service that allows tourists to experience a short "micro tour", guided remotely by a local from the place they are visiting.
Conceived of as a free service, with a "karma economy" model similar to Couchsurfing, City Window offers both tourists and guides experience the opportunity to meet new people from other countries. Guides are able to personally share something they love about their city, and tourists are able to get off the well-trodden path of mass-market group tours.

Tourists can browse available guides by location of tour and particular topics of interest, such as culture, food and drink, or history. The selected guide is notified of an incoming request and given the opportunity to accept or decline. City Window tours are topical but informal, and are time limited, which helps create a comfortable, casual mood for the participants, by keeping commitment and expectations reasonable.
Visitors share their exact locations on a shared map and, through the camera of their phones, live video of exactly what they are seeing in front of them. Both parties can interact with the map and camera feed — to provide directions on the map, or to call attention to something visible in the live view, for example. Visual feedback is overlaid on both screens.
At the end of the tour, a tourist can thank a guide for the service provided with a voucher for drinks or food, through local business partners. City Window could retain a small percentage of such transactions to sustain its operational costs.
The Process
City Window was created as part of the Emotive Digital Service course. Our brief was to create a service for live events. We initially explored concepts in the healthcare space, to reduce isolation caused by hospitalization, illness, etc. Our early ideation on ideas of telepresence led us to think about other novel contexts for creating impromptu connections, and we decided to focus on the serendipitous intersection of people, places, and interests. We conducted a series of live prototypes of the City Window concept with tourists in the streets of Copenhagen, using Google Hangouts to simulate the core experience of lending your eyes to a remote guide, and we received very encouraging early feedback. As a team we greatly enjoyed the opportunity to experiment and evolve some new ways of both prototyping and communicating our concepts as part of this project.
Quotes we got
"I think it would be great if it works as a give and give."
"It feels like being part of the city."
"To me it explains the feeling of a place."
"I liked that we both ended up speaking in English which is not our first language."
"It is more like a conversation."
For the future we could also imagine this service to work even before entering a different country such as to get prepared for your new home, to be able to make a choice on which city you want to travel in during your holiday or to simply break out of the everyday routine.
This is the reason we also tested our concept with people from all over the world such as: Mexico, Rotterdam, Berlin, Zurich, Bordeaux, Iowa and Copenhagen.
My Role
At the beginning of the project we all separately interviewed friends around their interests, about real-time information they would be interested in and collected as many stories as possible. We shared our insights, created HMWs, brainstormed around different design challenges, did a couple rounds of CRAZY 8s (8 ideas, 8 minutes, 2 minutes to present the ideas) and evaluated the outcome together. After deciding on one direction we started the testing:
During the following 2-3 days we split up the team in two halves: I talked to people, videotaped/recorded their experience, observed their movements and expressions during the experience and interviewed our test users afterwards.
During the last 2-3 day we worked very close together passing our work around so everybody got to work an all parts of the concept. My main focus during this shared process was on creating parts of the UI, storytelling and creating a presentation.